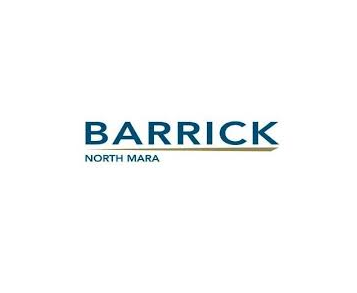 North Mara Gold Mine Limited is seeking to recruit four (04) Geological Technicians to join North Mara team. The successful candidates for this position will carry out assigned Processing tasks within the guidelines of Company Standard Operating Procedures and Best Practice as well as other assigned tasks within the range of competencies.
Reporting to: First Line Leader Geology.
Work Schedule: Rotation Status (7 Days & 7 Night on and 7 Days off)
Contract Duration: 1 year contract
RESPONSIBILITIES:
All incidents are reported and investigated according to procedure and on time
Assist with any other accident investigation when required
Commitment to identification, notification and/or rectification of all unsafe acts, situations and hazards within the workplace
90% of peers believe that you add value to their work
Contribute actively, think critically, support peers during daily and weekly production and planning meetings
Contribute to the appropriate business outcomes by ensuring the timely delivery of accurate geological data, knowledge, reports and documents
10% reduction of the drilling cost by managing the storage, distribution and use of drilling supplies and equipment
Maintain sampling at a high standards and ongoing basis operate field equipment
Maintain high standard of record keeping of activities of other Technician and Assistants
Ensuring the drill samples are collected in accordance with the SOP including recording of all required information and routine quality assurance and quality control practices
Facilitate the timely picking-up of drilling samples from the pits and subsequent dispatch to the laboratory
Sort, store and retrieve pulp and coarse rejects samples
Report oil and diesel spills and leaking equipment
Ensure an appropriate and sufficient stock of drilling program and safety consumables is available at all times
Carry out mark out to the required standard for mining
Perform ore spotting o Maintain equipment, vehicles and facilities
Assist with and participate in training programs for the development of all Geological Technicians and Assistants
Control and maintain the daily blending strategy and direct and record ore trucks onto appropriate stockpile
Accurate recording of daily production o Update of mining faces on dig plans
Mark out / label stockpiles as well updating faces on map
Perform geological and / or face mapping producing maps to the standard required for mining plans
Accurate geological logs of drill holes
Accurate measure location of blast movement balls before and after blasting
Accurate update of geological database
EXPERIENCE REQUIREMENTS:
3-5 years' experience in mine and exploration geology
Experience in managing Geology consumables and costs
The ability to coach, mentor and train Geology staff to assume higher positions of responsibility
SKILLS / KNOWLEDGE REQUIREMENTS:
Familiar with the mining environment and its associated hazards
Actively recognizes and manages hazards in their working environment
Able to drive a light vehicle according to LV standard operating procedure
Able to learn rapidly from attempts, building positive experience
Co-ordinated with a big picture focus but also an eye for detail
Able to investigate, inform and influence without intimidating or instructing
Values leadership, working across knowledge fields and parallel processing of different options.
Values developing people in their team to reach their potential
Demonstrated ability to identify where and how to use various methods with team members with some examples of systems development
Demonstrated Systemic development and implementation
WHAT WE CAN OFFER YOU:
A comprehensive compensation package including bonuses, benefits, and where applicable.
Ability to make a difference and lasting impact.
Work in a dynamic, collaborative, progressive, and high-performing team.
Opportunities to grow and learn with the industry colleagues are endless.
Applicants are invited to submit their CV's/Resume's (indicating the role title in the subject) via e-mail to: nmgraduaterecruitment@barrick.com
If you are not contacted by Barrick – North Mara Gold Mine LTD within thirty (30) days after the closing date, you should consider your application as unsuccessful.  Short listed candidates may be subjected to any of the following: security clearance; competency assessment; physical capability assessment, reference checking.
Please forward applications before 29th  November, 2021.
BEWARE OF CONMEN! NMGML does not receive money in exchange for a job position. Should you be asked for money in exchange for a job offer or suspect such activity, please report this immediately to our Compliance Hotline, by calling +1-877-246-5399 or through www.barrickgold.ethispoint.com