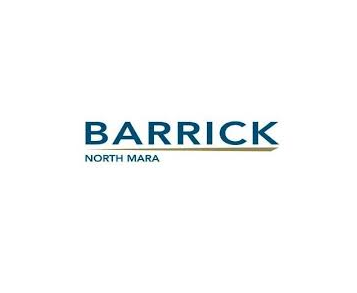 CCTV OPERATOR 
Bulyanhulu Gold Mine is seeking to recruit CCTV Operators to join our team. The successful candidates for this position is expected to align to the Barrick DNA and drive a change within his team and the business and on a practical note will ensure activities in the Security department are effectively planned and undertaken in a safe and cost effective manner to achieve targets in accordance to BGML Mining Safety Standards, Policies and Procedures.
Reporting to: Security Production superintendent.
Duration: Permanent
RESPONSIBILITIES:
Represent Bulyanhulu Gold Mine Ltd (BGML) on the mine site as Surveillance Operator.
Ensure that no Security member is in possession of a private firearm or traditional weapon while on duty
Ensure the necessary programs and reporting functions that will facilitate timely reporting of incidents are adhered to.
Conduct daily checks of external and internal operating systems.
Detect and ensure no loss of product takes place inside the process plant.
Utilize all available CCTV equipment to detect theft of the product.
Only allow authorized personnel to enter the CCTV control room
Report and record in a daily log all security breaches and suspicious activities in accordance with BGML security and operational procedures.
Assist and advise on the development of CCTV security procedures, equipment and deployment.
Assist with any emergency responses or procedures
Ensure that all BGML Mine employees follow BGML Mine security and safety procedures.
Conduct target surveillance on suspicious activities.
Comply with all the prescribed procedures.
Detect any suspicious behavior of process personnel and report such behaviors.
Ensure that all camera positions remain unchanged at all times.
Ensure that all gold room procedures are followed.
Ensure that all mill stoppages are attended to without delay.
Monitor mill relining and ensure that the relining procedure is followed.
Report any suspicious movements in the mill building to the Supervisor immediately.
Ensure that all intrusion alarm activations are attended to by the Process Plant Security
Do routine checks on the perimeter lights and ensure it is all in working order.
Acknowledge all activated alarms and arrange for alarm attendance in accordance with the alarm procedures.
Report any system failures without delay to the Supervisor and enter detail in the system defects register.
 Abide to the Security code of conduct
Abide to the Mine cardinal rules
Maintain the high standard of discipline expected from the Security department.
Carry out any instructions as directed by the Security Manager or his dually authorized delegate.
Abide to all voluntary principles of international human rights standards through daily conduct.
QUALIFICATION REQUIREMENTS:                                                                            
Advanced Level Certificate-Form VI
EXPERIENCE REQUIREMENTS:
Minimum 2 years' experience with a similar position.
SKILLS / KNOWLEDGE/BEHAVIOUR REQUIREMENTS:
Knowledge of CCTV Surveillance
Proven and developed leadership skills
Culturally awareness
Outstanding communication skills – oral, written, and presentation
Strong writing skills
Attention to detail
Works well under pressure, change and ambiguity
Ability to work independently
Uses consideration and tact
Works on improving own knowledge, skills and attitudes
Takes initiative, self-directed
Follows through and delivers on promises and on time
Makes realistic, practical, value-based decisions
Keeps on track and moving forward
Deals with situations in an open, objective, and flexible manner-
Prioritizes work and uses time efficiently
Plans ahead to ensure that resources are available for daily and future actions
Must be Competent in MS office applications
WHAT WE CAN OFFER YOU:
A comprehensive compensation package including bonuses, benefits, and where applicable.
Ability to make a difference and lasting impact.
Work in a dynamic, collaborative, progressive, and high-performing team.
Opportunities to grow and learn with the industry colleagues are endless.
HOW TO APPLY:
Applicants are invited to submit their CV's/Resume's, careful read application guidelines
Rename your CV in this format CV – YOUR FULL NAME
Indicating the role title "CCTV OPERATOR" in the subject of your email
Send your application via e-mail to:  bulyrecruitment@barrick.com
If you are not contacted by Barrick – Bulyanhulu Gold Mine LTD within thirty (30) days after the closing date, you should consider your application as unsuccessful.  Short listed candidates may be subjected to any of the following: security clearance; competency assessment; physical capability assessment, reference checking.
Please forward applications before 23rd November 2021